Les bains de la l'hambra
Do you want to take a step back and access a universe of voluptuousness, of pampering through gentle ablutions? the Bains de L'alhambra, a Marrakech spa that opens the doors to an escape to happiness associated with a refined and discreet delicacy in the middle of the medina of Marrakech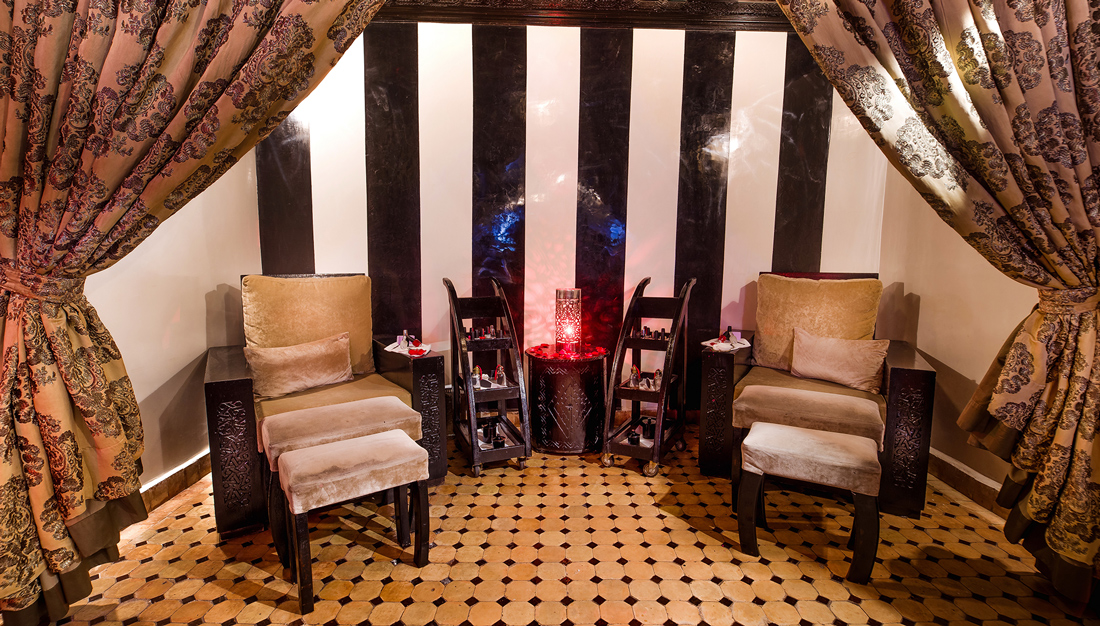 You're welcome
Want to take a step back and access a world of pleasure, to treat through the ablutions of gentleness? the Baths of The Alhambra, a Marrakech spa that opens the doors for an escape to the happiness associated with a refined and discreet delicacy in the middle of the medina of Marrakech.
Your well-being
Our service is of high quality and is spread from care minerals, massage with essential oils; to scrub soap and bath with rose petals through contentment offered on site by our room manicure and pedicure prestige.
A majestic haven in the center of the most beautiful city in Morocco. Directorate door Bâbagnaou, between the Royal Palace and the beautiful El Badi Palace, opposite the legendary Saadian tombs and the Kasbah Mosque This is the Alhambra Baths, Hammam spa in Marrakech will welcome you with open arms to the desired welcome. Just five minutes from the famous Jamaa el Fna, access to your Hammam spa in Marrakech is easy by car, on foot or by carriage.
Expérience exceptionnelle. Meilleure massage du monde pourtant j'en ai fait des massages . Rapport qualité prix excellent. Massage juste parfait ni trop fort ni pas assez gommage au hammam excellent. On sort apaiser. Professionnalisme au top je reviendrai.
Après un voyage de 3 jours, un lieu très agréable. Toutes les filles très gentilles et un massage d'une heure très professionnel. Merci pour ce moment.
J'ai eu une des meilleures expériences lors de mon séjour à Marrakech! Les massages sont bien diversifiés et pas chers du tout! on vous accueille avec un large sourire et un bon thé à la menthe! les cabines sont privées et joliment décorées! l'ambiance est top!!
J'y suis passé ce mardi et j'en ai pleinement profité! l'ambiance est tout à fait splendide et le staff de masseuses est très plaisant! C'était vraiment une belle surprise! J'ai vraiment hâte d'y retourner dès que possible!
J'y suis allée avec mon mari la semaine dernière, tout était au top! Nous avons profité d'un excellent massage tonifiant en couple, les masseuses étaient agréables et professionnelles! Les prix sont très raisonnables et l'emplacement juste au milieu de la médina est splendide! je recommande fortement!